Get ready for the longest post I have ever written. I have a theory that the best superheroes are the symbolic embodiment of some facet of humanity. Without this, a hero is typically pretty flat. Let's look at those superheroes which could be argued to be symbols. Look out! Spoilers below.
Batman:
Batman is a much beloved superhero by comic book fans and non-fans alike. He is the single most popular and remembered superhero from DC and possibly of all superheroes. He's not everyone's favorite (not mine certainly), but we can't deny his top spot. He has been re-visioned more times than I can remember and as such his character isn't always the same. For example, we all have this idea that Batman doesn't kill, but he has in the past, including when in the 90s movies he killed the Joker and Two Face (watch those again–they're on Netflix right now–Batman's actions lead directly to their deaths; that does fall under legal definitions of murder as Batman acts with malice and actions reckless of the lives of the victims, not that we care that he killed the Joker and Two Face). Some people who've gotten their hands on the caped crusader have been laughably horrible to his character, while others (*cough*FrankMiller*cough*) have greatly honored Batman. But if we look at the gist of the character, we can get a basic idea of what Batman stands for: Justice & Order.
The understanding of Batman as symbol comes from his origin story. His parents were killed, there was no justice served for the murders, so Bruce Wayne becomes Batman. We can see in certain adaptations that symbolism is brought up point blank, such as in Nolan's movies wherein Wayne says in so many words that he uses what he fears as a symbol. But it's important to note the kinds of people Batman traditionally goes after. I'm not talking about his supervillains yet. I mean the everyday street crime he typically handles. Most of these crimes (armed robbery, burglary, assault, theft, carjacking, random murder) go very much without any conclusion from the police and courts. In a lot of cases, the police can't even find the criminal. In those they do, the criminal could be let go on a technicality, charges are dropped, or cases are not pursued in court by prosecutors because of a low level of evidence. Those that make it to court have taken a while to get there, and they could still end without indictment, in a mistrial, with a plea bargain wherein criminals just walk out that day for time served, or with not guilty verdicts.Those that get guilty verdicts could end up with lower sentencing making the result equivalent to a plea bargain or be repealed again and again. All this can be seen as pesky red tape, but is to protect the accused party from erroneous charges or guilty verdicts and cruel and unusual punishment (two words very much up to interpretation). But this usually leaves the victims out in the cold, meaning they don't get justice. Batman cuts out all that red tape (i.e. the law–let's not forget the fact that he is a criminal here) and deals out justice immediately, typically with his fists which adds an extra level of satisfaction. He also actually stops street crimes in progress on a somewhat unrealistic level as it is something the police rarely get to do even with their sheer numbers over Batman (typically police show up to a crime scene after it has happened not because they aren't trying to get there, but because criminals don't usually commit crimes within eyesight of a cop and crimes are most often reported after they have happened). This idea that Justice can just show up when the crime is happening (which is pretty freaking impossible) and met out sentencing (in the form of his boot to said bad guy's stomach) right then and there is enticing to most of us. Batman is also the Santa Claus of crime and knows who deserves to be on the other ends of his fists without hundreds of people putting in their two cents along the path to victims getting justice as is the case in the real world. Again, this all pleases readers and viewers. We can look at Batman and say he gives victims peace of mind that justice exists and the bad guys will get what they deserve.
Some may question this interpretation since Batman doesn't ever kill in new canon. Well, to some degree I think that's because Batman remembers that he can never be 100% certain that the suspect is guilty and killing the suspect puts an end to other avenues of justice. Also, possibly one could interpret capital punishment to be law and not justice, making it at odds with Batman's symbolism.
But Batman doesn't just stand for justice, but also order. Part of this is the fact that he prevents the injustice of crime by stopping crimes in progress thus restoring order. But there is another support of this symbolism, and that's the Joker. The more modern Joker that is. The Nolan/Ledger Joker presents a person of chaos: he takes on all of Gotham's criminals, destroys their money and power, kidnaps/kills/disfigures the city's leaders, threatens to blow up a random hospital (then does) forcing every hospital in Gotham to evacuate (which I'm sure in most major cities the evacuation plan is to take patients to another local hospital so that plan is out the window), drives random citizens (people who have never committed murder or are sworn to uphold the law) to kill one man under the threat of the hospital's destruction, and maneuvers the citizens to evacuate the city ONE WAY then threatens to blow them all up. Every single person in Gotham during this movie doesn't know what to do. They've lives have reached full stop by the climax. The Joker has managed to up end every person's way of life. That is very much chaos. Much of the Joker's depiction in this movie is based mostly on the Miller Joker who kills himself with sheer will and spite to prevent Batman from becoming a hero thus usurping the natural comic book world order. This is a man who forms intricate plans just to cause as much disorder and craziness as he can. Even the Joker from the Burton film does this: he poisons random beauty, health, and hygiene products sending most peoples' lives into a realm they never imagined possible and then he held that crazy parade, promising to give out money to everyone. People lost their minds and came to get the money despite the fact that they knew he was responsible for several deaths. In nearly every modern version of the Joker, everything he touches turns to chaos. One man causes so much disorder and death and typically because he thinks it's fun. But the Joker also usually knows these kinds of actions will attract Batman, with whom he is obsessed. And this is where the symbolism becomes balanced.
Whatever the Joker messes up, Batman fixes or attempts to fix. Chaos turns to order and order to chaos, and we can see this cycle again and again within Batman and Joker's long battle. In the Burton film, Batman gets rid of the Joker's gas balloons, saving countless lives. In the Nolan film, Batman prevents the death of the threatened man, prevents Harvey Dent from murdering a child, prevents the ferries' destruction by the Joker, and restores some order to the city by allowing himself to be vilified. In The Dark Knight Returns, Batman "kills" himself off while creating what might possibly be the coolest neighborhood watch ever (I mean, seriously, if neighborhood watches dressed up as bats–take it further–and stalked around at night going after criminals that would be awesome). In all three instances, Batman helps restore balance and order to Gotham, undoing the chaos that the Joker caused, thus making him the antithesis to disorder, which is of course order. The Nolan/Ledger Joker likens their struggle to the unstoppable force and the immovable object (Marvel has a much more literal interpretation of this idea what with The Juggernaut and The Blob), which very much defines the fight between chaos and order. This is why Batman fans love a Joker story. Their battles are the most fun because of their opposite symbolism, which is another reason why Batman is considered (and pretty exclusively is) the best superhero.
(Don't ask me about the Hanna-Barbera/West Batman. Let's just pretend it didn't exist.)
Spider-man:
Spider-man is probably considered the second best or well-known superhero in the world, especially since the Rami/MaGuire movies came out. He's pretty close to being my favorite, probably is of this list. I'm not sure I've met someone who doesn't know that silly song, even if they haven't since the old cartoon, and I grew up watching that very silly cartoon from the 90s (I still like to watch it actually even if it is corny–just let me have my childhood!) In fact, I had one of those B&N first ten comics for Spider-Man which included his introduction in Amazing Stories (do I sound like enough of a nerd yet?), and I like watching anything Spider-man related (including the MTV show with Neil Patrick Harris) and saw the first Rami/MaGuire movie in theaters twice, having bummed a ride the second time and going it solo just to experience it again, though I can't seem to sit through The Amazing Spider-man 2, which seems to be saying something about their depiction of the character or the world. But my experience with the hero aside, I don't believe he is a top dog for nothing. Spider-man, like Batman, stands for two things: Responsibility (duh) and the Everyman.
The first one is pretty obvious to most viewers and readers of traditional Spider-man stories. I mean, it's part of the origin story and stated quite succinctly.
Okay, maybe it wasn't succinct that time, but the original text has it down pat and is an essential part of the Spider-man canon, so I'm not sure why they didn't just use it in the new movies. There is literally no better way to convey that meaning.
Everything about Spider-man/Peter Parker feeds into this one saying. He skips school, he ends relationships, he neglects his career, all for the sake of the responsibility tied to his powers. He is miserable the whole time because it's his responsibility to ignore his own mental, emotional, physical, and social health for the sake of helping others all because he can. This responsibility goes beyond those usually befalling citizens, it goes beyond the law. It's the last great advice of a young man's only father figure, but beyond that even, it's the fact that lives are on the line. When Peter isn't Spider-man, people die. The second Rami/MaGuire film has Peter walking away from that responsibility, and in a parallel to the first film, he runs into a burning building and saves a child, but someone dies on the third floor, someone Spider-man could have saved had he been there. It's harsh. In fact, it's a bit like kicky a puppy, and not just because MaGuire does the best puppy dog eyes ever seen on film, but because he can't catch a single break. That is so much responsibility. That is Sisyphus level responsibility. That's sixteen ton weight responsibility. I'm not sure Uncle Ben understood just how crushing those words would be to Peter. Peter is a slave to responsibility. Every time he tries to escape his duty as the web-slinger, he just ends up crawling back to fix all the problems that cropped up when he took what usually amounts to the world's crappiest vacation because the whole time Peter is thinking: Oh, God! People are dying! As much as I love Spider-man, his story can be somewhat bleak when we notice what a shell of a person he is and part of the reason this can be depressing is because he also represents the Everyman.
Not everyone knows what the Everyman is, so I'm pleased to give you this link. Don't worry, it's a quick one. Some may argue that being Spider-man automatically takes Peter out of this category, but I argue that his powers are "extraordinary circumstances." Unlike Batman, Peter didn't seek out what makes him super. It just happened to him. There is no character drive behind his powers, they are just the other side of the equation of With Great Power, Great Responsibility. Other than those powers, Peter is a pretty typical guy (unlike Batman who is a billionaire loner/genius with an obsession with beating the crap out of criminals). He's smart and talented, like most people think they are/wish they are. He struggles to hold a job and maintain a college career, like most college students. He almost always broke, like a lot of people. He misses those people in his life who have passed, like anyone. He gets frustrated with his job (JJJ is to blame on this one). He gets down on himself. He has crushes. He has dreams and aspirations outside of being a superhero (I'm sure a lot of people wish they were a superhero, so we settle for more meaningful and possible dreams, but Spider-man is a superhero and wants the same dreams we do). He has drama in his social circle he has to deal with. He gets embarrassed often. Any of this sounding familiar? We tend to see more of Peter Parker experiencing every day life than we do with other superheroes. I doubt we will ever see Bruce Wayne embarrassed in front of his crush. I mean, he's too suave for that (as we all wish we were) and may not even notice or care if he did something socially stupid since he's got other things on his mind like a crazed clown or diabolical penguin man. But the writers tend to find time to show Peter at his most human, which is usually presented by humiliation (people are never more real when their faces are beet red because for the most part embarrassment is a human emotion). Because of all the crap we see Peter put up with on a day to day basis in the most ordinary and sometimes even those extraordinary circumstances, we relate to Spider-man more than any other superhero.
But why doesn't his life depress us? I mean, it sucks in a lot of ways. We also love Spider-man because he's able to laugh in the face of all danger. He quips during almost all of his battles (unless someone's life is seriously in danger and he may not be able to save them), making fun of the melodrama of supervillains and traditional comic book plots. He handles his lot in life with style (and a healthy dose of angst, which is at time purposely funny), and we love him for it.
I also don't think it is coincidence or bad writing that makes the majority of Spider-man's villains somehow related to him. If he does represent the Everyman, than the "extraordinary circumstances" should extend into his social life, such as having his best friend's father (and his best friend) be in conflict with him on the same level, i.e. also have superpowers. This allows Peter's battles to become symbols of social struggles as opposed to just kickass fighting.
Side note: I'm not sure how I feel about the Amazing Spider-man movies. Everyone seems to talk over each other. Makes everything kind of hard to follow. And as Screen Junkies put it, Garfield seems to stutter a lot. I know they said it, but these movies are just so Sony can keep the rights (as well as the X-Men and FF movies), so they seem like poor, rushed attempts.
Judge Dredd:
Before I begin, let's all agree to leave Stallone out of this conversation. That movie was very uncanon. But it's very hard for an American audience to understand Dredd. It's a UK comic, and it goes back so far with one character (none of that reboot crap or new person taking on the persona–that wouldn't make any sense either since Dredd is his actual name, that would be somewhat like saying "I'm the new Dr. Smith!"). He's 2000 AD's longest running character, having premiered in 1977. And get this, his comic is still going. No breaks. It would cost £410.76 to get all the Case Files and Restricted Files (and don't think I'm not tempted, but that is $645.26) and the total of all those pages is a whopping 7,716 (prices and pages derived from 2000 AD's online store). Unfortunately, these and Judge Dredd comics aren't all that easy to get in the US as you most likely won't see the File books in your local bookstore or even comic book shops, so most fans know him from little bits of this huge canon and from the film and game adaptations. I also feel woefully left behind on this awesome character, so I welcome any die hard fans to add their two cents on the subject of Dredd as they will have far much more canonical evidence than I will. My first introduction to Dredd was that very awful movie, but then I learned later that he was much cooler than that, and I loved Dredd (2012). But even with my little bit of knowledge, I'm sure we can all agree that Judge Dredd represents the Law, made obvious by the graphic.
In the world of Megacity One, the law has been condensed from police, lawyers, juries, and judges to just judges. They witness, stop, and judge crime. They ride around on great honking motorcycles, carrying awesome guns, and hiding and protecting their faces with iconic helmets. They do this all in a dystopian future/alternate timeline wherein more than 90% of the population is unemployed, people are stuffed into giant slums called Megablocks, some people do nothing but eat, while others consider vomiting a hobby, crime is rampant, and outside the Megacities, there is nothing but nuclear fallout, as such some people are mutated by the nearby radiation. This world just reeks of cool. I mean, not to be really in it, but to read it. The world is a force of disorder and crime, and the judges are the last resort. There is very little fan interest in Judge Dredd's origin (another reason Judge Dredd bombed here). Most of us only care to see him doing his job. Maybe (who am I kidding? definitely) fighting Judge Death. So the recent movie gave us Dredd on the beat, as it were.
Before I get into the Dredd movie though, Dredd as a symbol is pretty well established by writers and fans. This isn't really in dispute, but non-fans aren't really aware of this fact and tend to be put off by Dredd's seeming two-dimensionality as a result. Dredd is not actually a two-dimensional character though, because within the canon there are constant hints that somehow he is the metaphysical embodiment of the law. Unlike other entries on this list, whose symbolism is not incorporated into the story world, Dredd's symbolism is a part of the world itself. That's why his origin doesn't matter all that much (not to say that there isn't an origin story, there is, it's just not as exciting as seeing Dredd in action), because we see the symbolism when he's judging crime. The two parts of the movie that best depict this come at the beginning and end of the movie, with the presentation of the major dramatic question (Will Anderson pass her exam?) and when Dredd passes judgment on Ma-Ma (spoilers obviously).
Oh! Why'd you cut her off? What was she going to say? Almost what?!
Anyway, the point is that Anderson's psychic powers were letting her see beyond the facade of Dredd to the deeper meaning of him. It's nice. Subtle. Something most people who don't know that Dredd is a symbol would miss or forget about, but any fan probably lost their sh*t at that moment. The first descriptors are almost as important as those she doesn't get to say: Anger and Control. I believe, the anger stems from the Law being pissed off that all this crime is happening. The control is most likely to stop the anger from getting the better of him and making him no better than the criminals he judges. Let's face is, there is a bit of anger when the law fails to punish the bad guys and the only thing stopping the law, in the U.S. that is, from just killing every suspected criminal that comes under its purview is preset controls (like appeals and the chain of evidence). Dredd doesn't need the regular controls we have in the U.S. because he's there when the crime takes place. He knows, without any doubts, that the suspect did the deed. But the law is a bit like a force of nature in the Dredd universe and as such, Dredd won't consider anything but the law when in pursuit of a criminal and her sentencing. Case in point:
At the end of the movie (at this point if you don't know a spoiler is coming then you probably shouldn't be operating a computer) Ma-Ma has a bomb hooked to her heart, in a ploy to stop the judges from sentencing her to death and carrying it out. Most judges wouldn't take the risk of getting everyone in the megablock killed over one sentence, but not Dredd. Because the sentence is death, and damned if he's going to let something like the threat of the death of hundreds if not thousands of people stop him from following the letter of the law to last damn dotted i and crossed t. Instead of considering other factors outside the law, Dredd just does what the law says he should, because, as every awesome Judge Dredd tagline will tell us, HE IS THE LAW!
Captain America:
No, I'm not saying he represents the U.S.A. He represents real patriotism, a.k.a not jingoism. Some may think he is over the top on his symbolism, but one has to remember when he was created. American pride was a driving force behind creating support for our involvement in WWII, which we didn't have a direct stake in until Pearl Harbour was attacked. But putting aside the historical drive behind his creation, Captain America represents the ideals that America is supposed to represent also. Those being honor, integrity, liberty/freedom, resilience in the face of almost certain death/failure, and most of all standing up for the little guy against bullies. Those last ideals have more to do with the American Revolution than they do with America today. Captain America is these ideals in perfection. We can ague until we are blue in the face that America's attempts at these ideals are flawed and imperfect to the point of "why bother?", but Captain America doesn't represent these things as they are but as they are supposed to be.
For example, no one is going to argue that punching Hitler in the face is a flawed action (unless they are a white supremacist, which who cares what they think anyway?). We all kind of wish we could have done it ourselves, but watching the figurative embodiment of everything that is meant to make America great do it is almost as satisfying. Even if it isn't real. Captain America is also a very nice person. Steve Rogers is a gentleman and treats everyone with fair respect, another thing America is supposed to value (yes, yes, we were horribly cruel to certain demographics, but remember I'm not talking about the real America but the one we wish it were and it strives to be). Of all the superheroes said to be "boy scouts" (Superman, Cyclops, Hank Pym), Captain America is the only one who actually acts like one. He is pretty much never a dick to anyone. He doesn't wear honor and integrity as a cologne as those other heroes do. No, it is his natural musk. And we love him for it.
The recent movies starring Chris Evans seem to really capture Captain America as a nice guy, resilient, and a leader. For example, not once, not ever does he brag (which let's face it, this country and its citizens could learn to keep their mouths shut sometimes–not saying I would want to live anywhere else, but like any nation, it has its flaws). Instead of going around saying how awesome he is (that's Ironman's job), Captain America just does what's needed and goes on to the next task. He saves the POWs and walks them back to Allied territory, and he's just satisfied that they all came out alive. He fights the Red Skull because it needs to be done. Before he even got his powers, he was a hero, because this:
I mean, look at that! The guy weighs less than I do, and that grenade would have turned him into a scavenger hunt, yet he jumped on it without thinking. All because it was the right thing to do. That's commitment to beliefs.
Captain America gives us all warm fuzzy feelings because he is the good guy, through and through. He's nice, he's brave, he stands up to bullies no matter how much bigger than him they are, and he succeeds. We like to think that goodness perseveres and wins in the end. That's not always the case in the real world, so it's awesome to see the greatest ideals literally kicking ass and saving people.
Honorable Mentions: Rorschach, The Hulk, and Wolverine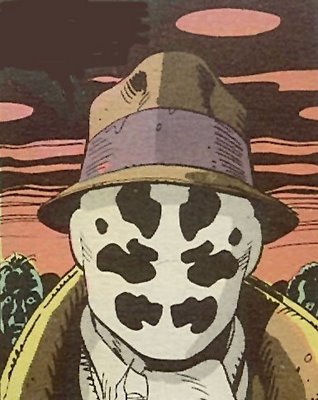 What is this nutbar doing on this list? Well, for one thing he's so cool. There are two points (in the comic book) that make Rorschach so loveable (well, not counting the prison line). First is when he kills the kidnapper. We all hate people who kidnap and kill innocent children. It's so much worse when we read that he cut up the little girl and fed her body to his dogs. Ugh! The reaction is pretty much pure hate here. So when Rorschach decides the best punishment is to chain the killer to the house, give him a saw, and set the place on fire, we all kind of go "YES!" Especially when the guy never makes it out. This is a major turning point for Rorschach as a character. It's the moment when he decides that no matter what the scum of the earth deserve to be punished. He isn't Justice or the Law at this point. He is Retribution.
The second point in which we love him is a circling back to something he said in the beginning of the graphic novel: No compromise, even in the face of armageddon. He doesn't just say this; he believes it to his core. So when the bad guy looks like he's going to get away with his plan, costing millions of lives seemingly for the sake of the entire human race, Rorschach will not compromise. He (SPOILER!) dies for retribution. And still wins in the end, if one remembers his journal and in whose hands it ends up.
The Hulk is typically a one note character. You wouldn't like him when he's angry, he gets angry, and he destroys most of everything around him. But his character is actually on some pretty solid ground. For one thing, he's an homage to Robert Louis Stevenson's "Dr. Jeckyl and Mr. Hyde", except where Mr. Hyde represents the Id of a psychopath, the Hulk just represents repressed anger. Which is great because most people walk around on a powder keg, because in a polite society, it's not nice to raise your voice, let alone break something (like that asshole who cuts you off and drives five miles under the speed limit–really? you can't wait to get in front of someone, but you can't go the speed limit?). The Hulk often let's loose where most of us would just have to bite our tongue and take it up the tailpipe, so it's nice to see that. Also it's nice to see someone else struggling not to lose it over ridiculously angering things (such as in the Ang Lee Hulk film where people went beyond your typical asshole action and went on to scum of the earth, inhumane actions). We all get angry and struggle not to make a big deal of it, so the Hulk ends up being very relatable, if not tremendously deep.
The Wolverine is a very fun character, and in fact, my favorite comic book hero (especially as played by Hugh Jackman, *eyebrow wiggle*). Sometimes it's just great to watch someone gut several assholes with six nine-inch razor blades. But Wolverine is also the most classically complete of heroes on this list, what with the amnesia and the search for an origin. It's a nice twist on the origin story. We don't know it because he doesn't know it (at least most of the time). But it's more than that too. Wolverine is always one step away from being one fastball of animal survival instincts. That's why he's so ferocious. When he is in killing mode, he kills at the fastest possible speed. He doesn't go for wounds or submissions; he goes for killing those that would injure him (not that it would matter if they did) before they have a chance. This is kind of amazing as most of this kind of animal instinct should be based on how if an animal is injured, it is most likely going to die, but Wolverine is fine in the event of an injury, so why in the world are his animal instincts so strong? There's not really an answer to that, but boy is it fun to watch.
His superhero name is also apt, considering full grown grizzly bears will see a wolverine coming and get out of its way because that is a world of hurt not worth it.
Who Didn't Make the Grade and Why?:
Superman: Why does anyone like this guy? He's melba toast with far too many condiments on it, so that when one takes a bite, the tongue is confused into a gag. His character is kind of blah, as I'm never sure what he wants or why he does anything he does. And his powers are a grab bag of weird. He's really only famous because he was the first, but unlike AOL, which everyone learned wasn't all that good, people still keep looking to Supes for some kind of story. All the movies are bad. Am I the only person who remembers this scene:
My god, I never thought I'd want to duct tape someone's brain before. Worst scene ever.
Then there was the recent adaptations, which were very poor in writing, mostly because there isn't much to work with when it comes to Superman canon. I want a drinking game for Man of Steel, wherein every time someone dies, we drink a shot, and die before the credits. Though Henry Cavil was the best Superman ever for two reasons: one, I actually felt for him (no other actor has managed that), and two, he refused to shave his chest for the shirtless scenes (a wolf whistle to the alien freak). But for the most part, I know Superman from that fun, animated show Justice League, wherein again and again, Superman proved himself a git and a dick with legs, which isn't that far off from comics what with the destruction of whole neighborhoods because "slums are the cause of crime" and of car dealerships and car factories because "cars cause car accidents". Brilliant social commentary there.
Wonderwoman: Wonderwoman, like Captain America, was a WWII creation, hence the outfit and the originally extremely racist oneliners. She, however, doesn't translate well to a modern age because she isn't an American. She now is more sexist than anything else, and is quite possibly the dumbest superhero ever. I don't mean her concept is stupid, though it is, but she is dumb. Seriously, watch Justice League and Justice League: Doom and tell me that's not the biggest idiot ever. I'm not sure stupidity is a good character flaw to go with.
Ironman: Ironman, as played by Robert Downey, Jr., is very fun. But he is a complete character. He has depth and flaws, but he doesn't really represent anything. He's also a little uninteresting, mainly because he's like Charlie from Two and a Half Man. There are only so many times we can read about Tony making strides as a human being before he reverts back to a mentally twenty-something party hound.
Any Women at All: Let's face it. Comic book writers are men. Walk down the aisles of your local comic book store and you'll either see muscled men flexing and gritting their teeth looking fierce, or the required women barely dressed in clothes that are basically paint on their skin with tits bigger than their heads that have absolutely no support yet are perky enough to be weapons. These women are not good characters. They aren't characters. They're window dressing. I have my favorites (Black Widow, Psylocke, especially in the X-Force costume), but that's more wish fulfilment fantasy, not admiration of good character development. Incidentally, since I love comic books and graphic novels, I've been writing my own, and since I am a woman, my main characters are typically women. If I even partially fill this hole in the genre, I'll be happy. Though if a reader can think of a female comic book hero that I haven't , I'd be glad to be corrected.
Conclusion:
This is my list, based on my opinion. If you want to contradict or add (with evidence) to this list, I'd be very happy to hear it. Bear in mind these were in no particular order, so I'm not saying one is better than the other either.